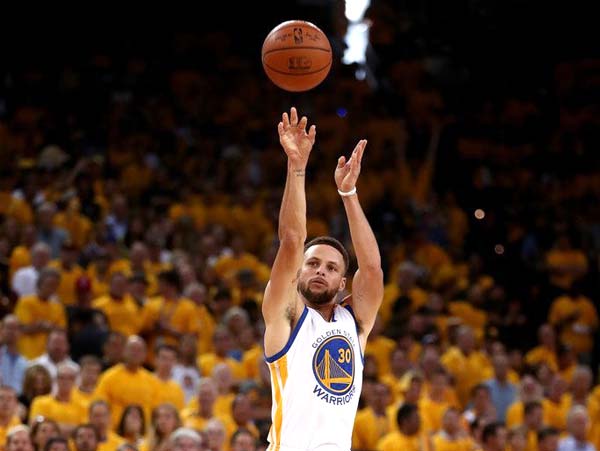 Today I wanna raise a subject that I've always struggled with as player – shooting the basketball.
Shooting is the most prevalent way points are being made in the game, therefore it's an extremely important skill to have, if not THE most.
But developing an effective jumper is not an easy thing to do, many people struggle with their form and their mechanics are bad. Luckily today, we have many NBA players in the spotlight we could learn from.
One huge star that comes to mind is Stephen Curry, who set a single season record for most three pointers made. He has developed a reputation as a consistent and "pure" shooter, and it seems like every shot he takes is going to swish right through the net.
What sets his shot apart from everyone else?
Well, here are a few things I've learned from looking at this footage of him:
1. The Turn
Square your feet to the basket, keep 'em shoulder width apart!
I'm sure you all heard this expression too from a coach or a teacher. When I was a kid I was always told to do so. However, it plays out differently in Stephen Curry's case.
While most players were taught to keep 10 toes pointed straight to the rim, Curry maintains an excellent balance and control by actually turning his feet about 10 degrees away from the basket to his weak side hand, aligning his hip and right shoulder to the basket which leads to a straight shot coming from his right arm.
This technique apparently also helps the problem of keeping the elbow in.
The ironic thing is Curry himself claims to square his feet but as you can see from the video above he clearly turns turns them. So there are 2 options here:
Either he's not aware of the fact that he's doing it, or he simply wants to keep it a secret :)
2. The Dip
When Shooting off the pass Curry dips the ball, dropping it a few inches below from where he caught it.
It turns out this dip is very important for power and rhythm and it also helps to make your shot go straighter based on Newton's first law of motion (the law of inertia) which says: "An object in motion will stay in motion until it's affected by an opposing force".
A good example to demonstrate this principle is bowling. When a bowling player comes to throw the ball he first cocks his hand back and only then launches it forward.
This action of taking the ball back makes it much more accurate because when the ball is released it already has some energy going in the direction you're sending it.
The same principle can be applied to basketball and dipping the ball increases the possibility of inertia, thus increases your chance to making the shot, so dip as long as you want.
And Just like in the first case, Stephen denies the fact he dips the ball. Again, is he really so unaware of his shooting form? Honestly, I doubt it.
Anyway Curry likes to take his shots off the pass, instead of taking it off the dribble. This allows him to set his form as he is catches the ball, which makes it easier for him to catch and launch in record time.
When he catches the ball, he slightly lowers his arms and then raises them up over his head as he's jumping, which gives him a steady release and more power for long distance shots.
3. The One Motion Shot
Curry is a one-motion shooter, which means there's no hitch or stopping, he releases the ball in one fluid motion.
Some people will say this form is incorrect but the good thing about it is that the release is very quick when you're shooting a one motion shot.
On the other hand, you can't jump very high when shooting this way, so there's a big debate on whether you should shoot this way.
One thing is for certain, it's working great for Curry.
But it's really up to you if you wanna adopt this shot or not.
I personally prefer the two-motion shot because I'm more used to it and it gives me more control over the power I put into the shot when I need to jump high.
4. Little Knee Flexion
Stephen is using very little knee flexion as he shoots, his legs are bent just slightly to give him enough power to jump, but speed is the main component here. Due to this, Stephen has been measured to have one of the quickest shots in the NBA.
When you bend you're knees, the lower you get, the harder it is for you go back up. It's like squatting in weight lifting, the lower you go with the squat the harder it is to come back up, and the time it takes is longer too, so try to use less knee flexion and don't be like the guy in the picture.
If you feel like you need more force in your jump try using your toes as well.
5. Breaking the Rules
Well, I hate to do that to you, but don't blame me, blame Curry, 'cause when it comes to his landing width he's breaking the rule many times by landing wide as seen in the video.
Shooting narrow is important especially for guards because it enhances the speed of the shot, and guards need to be quick with it.
Curry doesn't always follow that but in his case he's such a good shooter that he can break the rules and still score. The reason for that is that Curry is very consistent with his upper-body so he can do whatever he wants with his legs and still release the ball the same way.
This comes to show that the main component for his success is his consistent release.
BTW, if you noticed from watching the video, Curry also lands forward from where he jumped, also allowing the momentum of his body to shoot from longer distances. This is called the Sweep & Sway and I'm gonna get into to that later on in another post.
Hopefully these tips will help you in your jump shot, these are things you can start practicing right now and I will get into more of these shooting techniques later on.
Until then, Good luck!